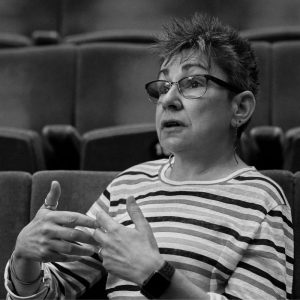 Michèle Taylor has been Director for Change at Ramps on the Moon since the Consortium was convened. For the last 7+ years, she has supported partner theatres to embed disability equality into their organisations and to realise their ambitions around elevating disabled people across the mainstream industry. Michèle is a disability equality trainer and consultant who set up her own business in 1992 to work with arts and other cultural organisations. She has seen immense change across the sector in that time, and is still impatient for more: "It's time to focus on
anti-ableism
: recognising that as disabled people, we are no longer satisfied with being granted access into an essentially ableist sector. I am proud of the Ramps on the Moon partners for the work they have done to reflect on their own structures and processes, and to share their learning." Over the years, Michèle has worked with clients such as The British Museum, The Royal Opera House, The University of Gothenberg, Cultural Heritage Without Borders and the BBC. She sits on a number of boards, including UK Theatre, and has a national profile in this area of work. Michèle loves nothing more than to question orthodoxy and to challenge assumptions. She believes that an attitude of curiosity, together with a healthy dash of mischief is necessary to effect change.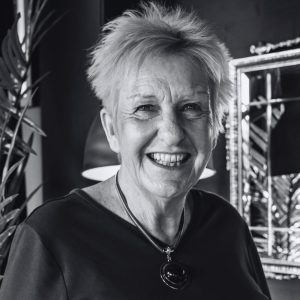 Sarah Holmes, is Project Lead for Ramps on the Moon. She has worked in British Theatre for more than 40 years and has championed changes in the industry to enable greater inclusivity, innovation and partnership working. In 2023
UK Theatres
presented her with the 'Outstanding Contribution to British Theatre' award
.
Sarah was recently Chief Executive of the New Wolsey Theatre, Ipswich for 22 years. Placing accessibility, equality and diversity at the centre of the artistic offer was essential for her and the New Wolsey Theatre joined a consortium of theatres that developed Eclipse Theatre in 2002 as a response to the provocation that British Theatre was institutionally racist. Originally from New Zealand, where she gained experience in technical, stage and production management, she arrived in the UK in her mid-twenties and spent 10 years at the London Bubble, where she introduced community participation, and at Theatre Royal Stratford East alongside Phillip Hedley who is renowned for championing diverse casting and the development of Black and Asian stories for our stages. Recognising that audience development was key to the success of the theatre industry, she led the New Wolsey Theatre into becoming the first UK venue to work with US based consultants TRG, a business specialising in the use of data analysis for developing new audiences and customer loyalty. Sarah also led Ramps on the Moon, with Michèle Taylor, in its first 7 years; her tenacity, drive, huge sense of fun and infectious appetite for change has been key to the success of the project.