Ramps on the Moon launched in 2015 as a collaborative consortium of six National Portfolio Organisation theatres funded by Arts Council England. Its prime directive was to enrich the stories they tell and the way they tell them by elevating the presences of deaf and disabled people on and off stage. The consortium of founding partners was made up of: Birmingham Repertory Theatre, Theatre Royal Stratford East, Nottingham Playhouse, Leeds Playhouse, New Wolsey Theatre, Ipswich and Sheffield Theatres as well as two associate partners Wiltshire Creative and RTYDS (Regional Theatre Young Directors Scheme). Graeae Theatre Company was a strategic partner until May 2021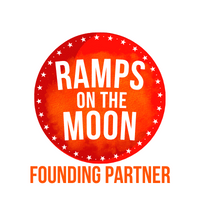 Ramps on the Moon steered founding partners to make lasting organisational change, enabling them to embed the values and culture of disability equality into every part of a working theatre.  Ramps also supported and financed major award-winning productions which reflected society back at itself, educated audiences on what to expect, and give them the permission to take risks.
We continue to share learnings between us and across the wider performance industry and together have created a legacy for future partners. Listen to the Ramps on the Moon podcast for the very latest news, challenges and learning within the industry and take a look at our new series of legacy films to tell you about the Ramps story and the effect it has had on both industry and the people within it.
We know there isn't 'one way' of making a sea change. We also know that the work we do collectively will enable theatre buildings and workforces to break down barriers for those who may think theatre isn't for them.
Ramps on the Moon steps into its next exciting stage, inviting new partners to join them collectively – to make real and lasting change in their organisations.